Turn, Turn, Turn ~ Reflecting on Life's Seasons
I'm thinking about this song this morning...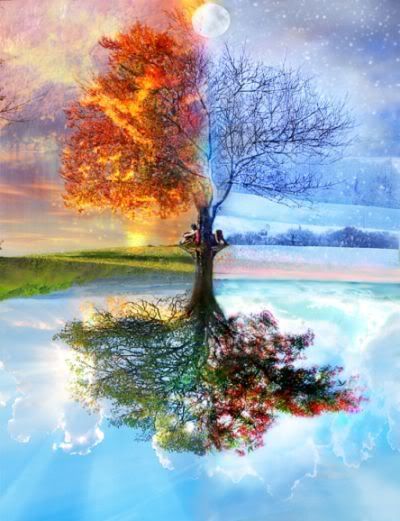 Words-adapted from The Bible, book of Ecclesiastes
Music-Pete Seeger
To Everything (Turn, Turn, Turn)
There is a season (Turn, Turn, Turn)
And a time to every purpose, under Heaven
A time to be born, a time to die
A time to plant, a time to reap
A time to kill, a time to heal
A time to laugh, a time to weep
To Everything (Turn, Turn, Turn)
There is a season (Turn, Turn, Turn)
And a time to every purpose, under Heaven
A time to build up, a time to break down
A time to dance, a time to mourn
A time to cast away stones,
a time to gather stones together
To Everything (Turn, Turn, Turn)
There is a season (Turn, Turn, Turn)
And a time to every purpose, under Heaven
A time of love, a time of hate
A time of war, a time of peace
A time you may embrace, a time to refrain from embracing
To Everything (Turn, Turn, Turn)
There is a season (Turn, Turn, Turn)
And a time to every purpose, under Heaven
A time to gain, a time to lose
A time to rend, a time to sew
A time for love, a time for hate
A time for peace, I swear it's not too late
~~~~~
It's been such a good, relaxing week. I have been too busy enjoying myself to write on my blog. And I love being able to share
that
after some of those previous posts sharing my struggles in recent months. I was thinking this morning about the last year and a half and how good today feels in contrast. I like to occasionally recap the CLL details for those who are new to my blog. (Feel free to skim through the stuff I'm repeating if you already know those details.)
As most who read my blog already know, my husband was diagnosed with chronic lymphocytic leukemia in the spring of 2007. His mom was diagnosed with the same blood cancer in January of 2008. And I am the primary caregiver and patient advocate for both of them. This is not always a full time job (other than the continual research I do). But the last year and a half has been eventful for both of them.
Ever since diagnosis, John has been plagued with swollen lymph nodes throughout his body. They were not only visible and appearance-changing, they were always tender and often painful. His CLL proliferates primarily in his nodes rather than in the blood and marrow. Marian, on the other hand, has had a very gradual progression in her blood and marrow since diagnosis, with minimal lymph node swelling. She was able to stay in "watch and wait" until October of 2010. John was treated first with Rituxan alone (in 2008), then tried periodic prednisone (which was more of a bandaid that Dr. Flinn was not in favor of) and ultimately opted for FCR (presently the gold standard chemotherapy regimen for CLL) beginning in September of 2009 and culminating the last week of January 2010.
Going through chemo was a difficult time and emotionally challenging for me. It is very hard to watch someone you love suffer and not be able to do anything other than just be present. It's a very helpless feeling. And it's an isolating feeling (even though you know you are not alone). But we pushed through, hoping John would get a long remission after treatment ended. He did not. His nodes did not fully respond (although they were reduced in size temporarily). Within a couple of months of finishing his sixth cycle of FCR, the nodes were growing again. That was scary. When your doctor looks at you with focus and obvious disappointment and says, "This is serious. This is not good." -- then proceeds to open discussion about stem cell transplant (which is considered by most a last resort option), there's a lot of fear and trepidation. I remember Dr. Flinn having to hand me a tissue that day because tears ran down my face. Tears are forming in my eyes right now just remembering that day.
I don't know that John fully comprehended the situation as well as I did, but I knew that in order for a transplant to be successful, John would have to be able to achieve a complete remission first. And there are a lot of risks and serious side effects associated with transplant (even successful transplants). There are even patients who don't survive the transplant because of complications. The success stories are very encouraging, but anyone who has thoroughly researched transplant in CLL patients is aware of the risks. The fact that John did not respond to FCR was by no means an encouraging thought. And although I do wear a good deal of emotion on my face, I was
more
afraid than anybody knew, including John.
Chronic, incurable illness is an emotional rollercoaster. John, who is unbelievably (to me) steady and level, started to make little comments about his mortality -- that I hadn't ever heard him say out loud -- when he did not respond to FCR.
At the time, I had recently seen exciting reports of a new drug being studied called CAL-101. I knew one patient in particular (from CLL Christian Friends) who had failed other treatments, had the same lymph node issues as John, and was getting amazingly good results from CAL-101. We had become online friends and I read his updates on the forum. We also read each other's blogs and corresponded occasionally through email. I was feeling excited about his turnaround and also about the possibility of getting John into a similar clinical trial. I wasn't sure if Dr. Flinn had a trial open using CAL-101 as single agent. But I was prepared to travel to another specialist who did if necessary. And I told John very emphatically that we would not be making this decision based on convenience. I was determined that he was going to try CAL-101 before resorting to transplant. He knew I felt so strongly for a reason (protecting him!) and he didn't object. But fortunately when I brought up the subject with Dr. Flinn at our next visit, he told us that he was participating in the same trial and John would not have to travel. He was pretty sure he could get him into this trial if that's what we wanted to do.
John was able to enroll in a CAL-101 single agent clinical trial for patients who had failed or relapsed from other treatments. Often these clinical trials are offered to patients in this category because they have fewer options. So, it turned out to be somewhat of a blessing that John failed chemo right away (if he was going to fail or relapse) because that was what qualified him for this clinical trial. And he was enrolled just weeks before the study was closed to new CLL patients. Although other trials studying this same drug have opened, most are in combination with other drugs (Rituxan and chemotherapy). John was able to take the lowest dose of CAL-101 (50 mg. twice a day) alone (no infusions). And it began to work on his lymph nodes within DAYS of his first dose. That was the end of May of 2010. And now things were looking hopeful again.
For the first couple of months, John had to be seen and have blood drawn weekly, then bi-weekly, then monthly. At this point, he only has to go every other month. But about the time he was able to start going monthly, Marian was needing to begin treatment. Fortunately, a new CAL-101 plus Rituxan trial had been opened for older CLL patients who had never received any previous treatment. The timing was perfect for her, since she was very reluctant to do chemotherapy at her age (78). And we already knew that John had responded so well to CAL-101, with no side effects. That was reassuring to her (and to me).
So ... at the end of
this
September, Marian was preparing to begin treatment and going through all of the pre-treatment testing. She had her first bone marrow biopsy, which showed that her marrow was 90% infiltrated with CLL cells (malignant b-cell lymphocytes). We definitely were not treating prematurely. Her declining HGB, HCT and platelets were the result of her diseased/compromised bone marrow not producing enough healthy red cells. At this point, she still looked great and it was difficult for some family members to grasp that she actually needed treatment.
While John scaled back to less frequent office visits, Marian was just beginning her weekly screenings and treatment appointments. Sarah Cannon was beginning to feel like my second home. For the next eight weeks we sat most of the day (once a week) in the treatment room as she received her weekly infusions of Rituxan. It didn't make sense for her to have to drive back and forth to Evansville where she lives. So she stayed here with us.
Then halfway through her eight weeks of infusions, Marian lost her daughter to stage four throat cancer. Lillian had been fighting to survive for a year and a half. And we knew she was losing her battle. But we did not know she had so little time left. She and her husband had driven to Vanderbilt in October to see a specialist and he had not recommended more surgery. They spent a few days with us before returning to Evansville. And Lillian passed away within weeks of that visit. Marian and I went to Nashville for her weekly infusion on the way to Evansville two days before Lillian's funeral. November was particularly hard.
After Marian's last infusion she had one additional week of tests and a follow up visit. Then she did not have to return to Dr. Flinn for two weeks. So she went home and John and I spent a wonderfully relaxing and therapeutic week in Jamaica as our Christmas gift to ourselves. Marian returned for her next visit in mid-December and seemed to be doing fine except for a persistent cough that she couldn't fully get over. I bugged her a little bit about seeing her primary care physican about it. She assured me that she got a cough like that every year and it usually turned into laryngitis. She wasn't worried about it. I reminded her she had to take such things more seriously now that she had CLL and that coughs can turn into something more serious when you are immunocompromised. But then I backed off because I felt like I was starting to be a nag and I had conveyed my concern ... time to stop harassing her (or so I thought).
One of the lines you try to walk -- especially when being a caregiver to someone older than yourself -- is showing the proper respect. I tend to be a bossy person by nature. I don't mean to be. I mean to be helpful most of the time. But I know that I am opinionated and expressive and ... well, sometimes just bossy. My sister-in-law (Cheryl) says I'm bossy
in a sweet way
. LOL. Still, I don't think of bossy as a good quality. And I never want to make Marian feel as if I'm treating her like a child. So I cautioned her and then tried to button my lip. I won't do that again in the future. I'll just be bossy.
Marian's cough turned into pneumonia over the next couple of weeks. She had mentioned it at her last couple of office visits here. But she had no fever, her lungs were clear, and she minimized the cough. About that same time, her blood showed a slightly elevated calcium level. Some of the symptoms of hypercalcemia are the same as pneumonia. So the symptoms she did have were attributed to hypercalcemia. And she followed up with an office visit to her primary care physician at home about her cough. Her PCP diagnosed her with bronchitis and put her on an antibiotic. He also drew blood. And later that day, he called to tell her to go straight to ER and be admitted to the hospital because her calcium level was dangerously high. (It had gone from 10.6 to 13 or more.) This was January 3. Her symptoms (shortness of breath, weakness, feeling fuzzy mentally) were all attributed to hypercalcemia. So she was treated for hypercalcemia and spent two nights in the hospital, then released to come back to Dr. Flinn. The hospital diagnosis was primary dehydration and secondary hypercalcemia. I am not a doctor, but I knew that diagnosis was not correct. She did not get in that condition because of dehydration. She was eating and drinking all weekend (as witnessed by family members). If she was that dehydrated, something was causing the dehydration.
When we returned to Dr. Flinn, he told us he agreed that dehydration did not cause her hypercalcemia. It was the other way around. He put her back in the hospital here and the next morning she was diagnosed with pneumonia in both lungs. From January 6 to January 17, she was in Centennial Hospital. After several nights on the oncology floor, she had to spend three nights in ICU because the pneumonia was so severe and she was not getting better. The response team (which had to come to her room several times in the middle of the night) explained to me that she was in danger of taking a turn for the worse at any time and, if that happened, it would be sudden rather than gradual. Dr. Flinn decided to move her to ICU in an attempt to prevent that from happening. And after her stay in ICU, she did finally start to improve.
On the 17th, I brought her back to our house. She was weaker and more fragile than I have ever seen her. And I was worried that she might not ever be her old self again. I wondered if this health event would be the catalyst for her declining years. Quite honestly, I spent a lot of time worrying about what was ahead for her and even for me as a caregiver if she did not regain her health and strength. I felt emotionally depleted. And although I try to be the best caregiver I can possibly be, I knew my frayed edges were showing. Some days I just felt nervous and jittery all day long. I am not a good actress. My facial expression and tone of voice is a dead giveaway, even when I'm trying to fake it. I am normally so passionate, expressive and exuberant that just being
quiet
gives me away. I worried that Marian could sense my emotional exhaustion and might feel like she was a burden to me. She wasn't. And she never could be. Because I love her SO MUCH. But I also cannot deny that I was feeling pretty tapped.
Everyone tells you that the caregiver has to take care of themselves. But I have never completely been able to figure out how one does that. In the middle of a health crisis, there is no time to care for yourself emotionally. And when you do think of doing something for yourself, you feel a little
guilty
for thinking of yourself at a time like that. At least I do. And I don't think I'm alone in this. Sometimes I would escape to my bathtub for an hour or more of alone time. And while I was there
trying to relax
, I would wind up chastising myself for not being more selfless. My internal struggle to stay "up" all the time made me feel like a failure no matter how much everyone around me assured me that I was doing a good job. John insists that a lot of my stress is self-inflicted. And he's probably right.
January was tough. And it felt long. But my worst fears did not materialize. Although Marian is feeling her age a little bit more than she used to, she has made an amazing recovery from the pneumonia. And she is continuing to respond to CAL-101. She is so much better that I can hardly believe how far she's come since the end of January. She was here for several days this week because she had a regular office visit on Tuesday. And we had such a good time together. It was exciting and encouraging to see that she IS her old self again. And it is rewarding to know that I played even a small role in helping her through all of that.
Thursday morning before she left, we sat at the kitchen table talking and drinking coffee for a couple of hours. We talked about her ordeal and how much better she is. And how much better I feel, too. One of the things I love about our relationship (and appreciate about her) is that we can talk about anything. There is no subject off-limits. And I can be honest and real with her. She doesn't expect me to be perfect. During our conversation, she told me that she had told someone recently, "Shari is just a natural born caregiver." And she told me again how much she appreciated me and the way I've looked out for her. I told her, "I am so relieved to hear that you
still
think I'm a good caregiver because I knew that my nerves were showing sometimes and I worried that you would think the problem was you, when I knew it was me." She said, "I could tell when you weren't feeling good because you were quiet. But I understood. Having someone around all the time and not having your normal routine would take a toll on anybody. You just have to accept that you're human."
For most of my life, nobody ever said reassuring words like that to me. In the most significant relationships of my life, I felt that nothing I did was ever good enough, no matter how hard I tried to please people. And maybe that is partly why I am so hard on myself to this day and never feel that I do anything "well enough." Or maybe I was just born this way. Who knows. What I do know is that it feels good -- really good -- to be appreciated, loved and accepted as I am. I told Marian all of that and she so sweetly said, "I can't imagine wanting to change a thing about you. I'm thankful you are the way you are."
So, I guess you might say that I'm currently enjoying the sunshine and the rainbow (figuratively speaking, of course) after the storm. And I know it's sweeter
because of
the storm. Just as my life with John is sweeter and more cherished because of my past. I currently find myself more intensely appreciating the normalcy of my days and having the time to reconnect with friends I have so missed spending time with over the last few months. I'm grateful that my two patients are once again BOTH healthy and stable. And I pray they are never in crisis at the same time, since I know it's likely there will be other health issues and challenges in both their futures. But by God's grace, I'm hoping for some smooth sailing and many good years ahead.
I started this post after talking to John's older brother Harris on the phone this morning. He has been very thoughtful to call and check on me through all of this, wanting to make sure I'm okay and wanting me to know how much he appreciates me. Although I tell him, I doubt he'll ever know how much his concern and support have meant to me. He called this morning just to make sure I wasn't feeling inhibited about continuing to share my thoughts on my blog (I guess he noticed I wasn't blogging) and to express appreciation for the way I take care of his mom and his brother. I expressed my love and appreciation for him and told him his phone call got my day off to a wonderful start. And I really meant that. I like having a big brother who is protective of me. I'm the oldest and the only girl in my natural family. And I never have experienced that before. I'm sure it means more to me because I haven't.
I knew what the title of this post would be before I started writing because I feel especially impressed by how quickly life's seasons turn -- and how we need to appreciate every day. Even our gloomy, winter days. The only constant in life is change. The good news of that is that bad times don't last forever. And the bad news is that good times don't either. There will always be future challenges and difficulties to contend with. We don't know what's coming next. But that's why we have to squeeze the most out of the sunny days and truly savor them. Sunshine feels so much better after days and days of rain or snow. Haven't you noticed that?
Soon it will be spring after what has seemed like a long winter (in more ways than one). And I am more eager than ever to get out on my patio and dig in the flower pots. I'm pleased (and amazed) that I have kept two large hibiscus plants alive in my garage all winter. (Could it be that I am finally learning how to be a better caregiver to my plants?)
I'm obviously even more pleased that John and Marian are alive and well. And that I'm still alive and well to enjoy another day with them.
In sickness or in health, I am so blessed to have them both in my life. And I have never been more thankful for each and every day.
Do me a favor. Go find someone you love. Right now. Hug them and TELL THEM how much you appreciate them. Even when we are loved, we don't always know that we are appreciated without being told. And appreciation is contagious. If I had to pinpoint the number one factor in the happiness of my marriage, it is that John and I both appreciate each other so much. And we do not take our relationship for granted. We are partners in everything and we know we can count on each other as best friends. We know we are valued and appreciated, as well as loved.
Let someone know today that you value and appreciate them.
You just might brighten their day ... like Harris did mine. : )